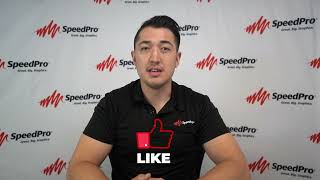 Directional signage is essential for any public space or private business location. People need directional signs to help them navigate through an area and learn important information. Well-designed, properly placed directional signage will help a person feel more comfortable and can even reinforce your branding.
SpeedPro's nationwide visual-communication studios can print custom wayfinding and directional signage for retail and commercial operations. Find out what these specialty signs offer your space, brand, and customers through your local, full-service SpeedPro partner.
---
Table of Contents
---
What Is Directional and Wayfinding Signage?
Directional and wayfinding signage are signs used by businesses, offices and special events to display particular informative messages.
Custom directional signs are printed on various base substrates and are highly customizable to your needs. Many businesses use wayfinding signs for four main applications:
To provide directions: Guide visitor foot traffic both to and within your business using directional signage. These clear signs employ bold arrows and clear instructions to point people in the directions they need to go.
To name rooms or buildings: Assign names and numbers to conference rooms, meeting spaces, offices and event halls, where even first-time visitors can navigate rooms and buildings using signs intuitively.
To designate special zones or areas: Identification signage to highlight parking lots, drive-through lanes, smoking areas, waiting rooms, terminals and similar "assigned" areas with specialty purposes.
To provide information: Information signs to relay pertinent information through custom directional signage. Showcase parking rules, store hours, gate or entry prices, garbage and recycling bins, bathroom locations, device charging stations, customer service desks, and more with custom signs offering specific instructions.
Benefits of Custom Directional Signs
Directional signage enhances an unfamiliar space's professional appearance, navigability, and natural appeal. Buildings with wayfinding signs don't merely look better, though — they carry many commercial advantages:
To welcome: Directional signs placed in strategic locations allow customers to feel welcomed and in the right place. This is important for companies hosting clients and vendors, individual event spaces hosting gatherings and events with streams of visitors.
To reassure: Wayfinding signs provide instantaneous feedback on where customers are and where they can go. Directional signs can also provide reassurance that visitors are parking their cars, storing their coats, locating refreshments hassle-free. Businesses that proactively manage end-to-end experiences are businesses that make top-notch impressions.
To guide: Guests don't have to stumble around, guessing where to park, which door to use, what lies down a hall or searching endlessly for an employee to lend needed directions. Directional signs do the work for them to navigate through an office or venue quickly and autonomously.
To brand: Stand out from the competition next door and down the street with strategically placed, branded directional signage. Permanent and temporary wayfinding signs let businesses swap and replace their signs, aligning materials with current sales or deals and keeps promotions fresh.
Request a Free Directional Signage Consultation from Your Local Studio
Different Types of Wayfinding and Directional Signage
There are three main types of directional and wayfinding signs — indoor, outdoor and digital.
1. Indoor Directional Signage
Indoor wayfinders are the most commonly used directional signage. Businesses employ them to relay:
Entry and exit points
Wheelchair accessibility
Departments
Room, office or hall spaces
Restrooms
Cafeterias
Lounges
And much more
Ordered to match the size, scale, color schemes and level of detail required by your ideal vision, indoor wayfinder signs are used in private and public settings alike. From grocery stores and warehouses to amusement parks, arenas and multistory condominium buildings, directional signage lets people know where to go when they're in your space, speedily and intuitively.
Some types of indoor directional signage include:
Banners: Banners are attention-getting displays that can help direct people and provide key pieces of information. You can hang banners or use banner stands to create freestanding displays. These banners work especially well as directories in a lobby or entryway. This way, people feel welcomed and learn right away where they need to go.
Floor decals: Floor graphics are a great option for wayfinding since they make it easy to point people in the right direction. Sometimes, arrows on overhead signs can be a bit confusing. For example, an arrow pointing up may indicate a room is located just ahead or up on the next floor. In contrast, arrows on the floor are never confusing and they remain in people's sightlines.
Temporary signs: You can create temporary directional signs from materials like foamcore, hanging or displaying them on easels. These signs look sharp and professional but are affordable enough that you can create them for a single event or a temporary need. For example, you can let people know an area is closed for renovation or provide directions to rooms where sessions are taking place at a conference.
Elevator wraps: Elevator wraps are a great option for multistory buildings. These displays are big decals that turn an ordinary elevator into a large-scale visual display. This can be an excellent opportunity for branding and wayfinding. For example, a museum could list popular exhibits and amenities and which floors they are located.
Wall murals: Wall murals are always designed to make an impact. In many cases, they are primarily created for branding purposes. However, you can also create wall murals that look amazing and help with wayfinding. For example, a department store could install murals to identify various departments, and an office could install a mural in the lobby to serve as an eye-catching directory.
2. Outdoor Custom Directional Signage
Outdoor wayfinding signs serve many of the same functions as indoor ones, only in external environments. Use outdoor directional signage to indicate:
Entryways and exits
Parking lot locations and hours
Store or office hours
Building designations
Terminal areas
Sales advertisements
New storefront openings
Trails and paths
Some types of outdoor wayfinding signs include:
Mounted signs: Permanent signs are essential for identifying your business, either on a monument-style base or mounted to your building. Shopping plazas also use these signs to list the companies in the plaza, so someone driving by won't miss the location of a particular store or doctor's office. These signs can also list your street address to help people find you.
A-frame signs: A-frame signs are an easy and effective solution for temporary outdoor signage. For example, an outdoor event like a music festival can use A-frame signs throughout the grounds to point attendees to restrooms, food booths, stages and other locations. The great thing about A-frame signs is that they're freestanding, so you can unfold them and set them anywhere.
Floor decals: Floor decals also work outside on surfaces like asphalt and concrete, meaning you can install them on a parking lot or sidewalk to provide directions. If properly applied, these decals can last a long time. They're also a great solution for temporary events, as well. For instance, floor decals could point the way to various attractions and locations at an outdoor fair.
Flags: Flags are another great option for outdoor signage, whether you simply want to boost your brand awareness or help with wayfinding. Flags have the advantage of being large and colorful, but they only allow for minimal text. This makes them a strategic choice for drawing attention from afar to a particular area or showing people where your business is.
Window graphics: Window graphics are decals or clings that can turn your storefront into a colorful and informative display. You can display essential information like your store hours and direct people to enter and exit using the correct doors for wayfinding purposes. This is especially important if you have a locked door and need to prompt people to use the other door.
3. Digital Wayfinders
Digital mapping options provide a sleek, modern reimagining of traditional directional signs.
Rather than printing signs on vinyl and glass, digital signage screens to display your directions and information. Add branded imagery, or program a handful of serialized messages to maximize this unique medium and catch even more attention.
Consider digital wayfinding and directional signs:
Outside of conference rooms and event spaces
Placed as "You Are Here" maps
Containing building directories
Showcasing maps to grounds or surrounding land
Displaying meeting room schedules
Talk to Your Local SpeedPro About the Types of Directional Signage You Need
Tips for Directional Signage
Directional and wayfinding signage is straightforward, but designing and installing this signage involves strategy and attention to detail. There are several best practices for indoor and outdoor directional signage, from determining the best placement and feature lighting to safe and compliant sign mounting.
1. Placement Is Everything
The best placement for wayfinding signs is clear and uninhibited spots. Visitors to your store or office should be able to identify signs in seconds. Place wayfinding signs as linearly as possible. Always keep signs where people are versus where you intend for them to go. Directional signs do no one any good if they're mounted after customers or visitors have the chance to take a wrong turn or get obscured by other branded signs, busy walls and backdrops.
You also want to choose signs that make sense for the indoor or outdoor environment.
Indoor signage: Indoor wayfinding signs are long-lasting and durable. They are ideal choices for room and office instructions, internal building directions, trade show signage and directions toward bathrooms, elevators and emergency exits.
Outdoor signage: UV-protecting coatings provide a buffer to keep outdoor directional signs strong and vivid. Use outdoor wayfinding in parking lots, special events, or sidewalks and walkways to attract target foot traffic. Other signage laminates can be selected to match your sign's perfect finished look and hold up to inclement weather.
Digital signage: The sleek, contemporary look of digital signage makes walls and rooms stand out even further—place digital signs in hallways to display meeting room or event hall names and booking schedules. Install messages near entryways or exits to thank guests for their visit or to showcase a "you are here" map. Hang digital menus outside your restaurant to attract hungry eyes. Then swap digital signage displays for your next branded wayfinding message when you see fit.
2. Keep the Signage Design Simple
Wayfinding signage designs are best when visual cues are crisp, clear and easy to comprehend. Employ colors and shades that match or enhance current branded color schemes, plus bold but simple fonts to read from near and afar.
If using graphics, keep the symbols, icons or pictures subtle. Align any chosen graphics with the sign's message to prevent message confusion or oversaturation.
The design elements of wayfinding and directional signs should be eye-catching enough for people to spot, yet never so over-the-top they detract from their purpose —always to simplify and help.
3. Use Images and Icons Wisely
Highlight simple, straightforward images on your directional signage. Think "language-less" shapes and outlines familiar to most people in most cultures, providing instant recognition.
Depending on your wayfinding sign, more detailed images or visual cues may be appropriate. For example, adding your logo onto trade show directional signage lends a standout feature that distinguishes your area from others. Branded imagery and pictures brighten and enliven digital signage, particularly when used in hallways or conference rooms without other graphics to distract.
4. Don't Forget Lighting
The right lighting can add or detract from the overall impact of your signage. Install materials near direct lighting sources to illuminate their vinyl, plastic or glass substrates. Wall sconces, picture lights, and specialty LED wall lights to provide uniform light distribution for readily readable, glare-free signs.
For outdoor signs, consider backlighting options during both day and night hours. Ground-installed spotlights pointed at wayfinding graphics offer a touch of ambiance alongside well-lit directional signage for events, parking lots, loading docks, and campus buildings.
5. Pick the Right Signage Backdrop
What's behind your new wayfinding or directional signage? Will that backdrop be paint or wallpaper, brick, siding or glass? Will the directional sign be freestanding, ceiling- or wall-mounted or a floor decal? Will bright or vivid colors be present around the sign's intended location or installed near other high-resolution images such as wall murals or window graphics?
Directional backdrops should be clean and distraction-free and provide a blank template for guests and customers to focus on the sign quickly. The clearer the backdrop, the easier this will be. Consider signage backgrounds proactively to make the most of your design.
Contact Your Studio for a Free Directional Signage Consultation
When to Use Wayfinding Signage
Directional and wayfinding signage has numerous uses, from the practical to the aesthetic.
1. Directional Signage for Restrooms, Parking Lots, Wheelchair Accessibility and Other Specific Designations
Spaces or rooms requiring clear designations often have universal, picture-based signs. Many areas use this kind of directional signage, with simple shapes, arrows and stick figures that display a language anyone can recognize.
Internationally familiar wayfinding signage is particularly crucial at public events and venues. Hotel lobbies, casinos, sports arenas, trade shows and transportation hubs require easy-to-spot and easier-to-understand directional signs guests from anywhere can process.
In some cases, signs denoting wheelchair accessibility, emergency exits, bathrooms and more are compliance mandated. Ensure your business or building is up to code by outfitting proper, permanent directional signage.
2. Directional Signage for Retail Businesses
Consider many of today's most popular shopping environments, where clear directions and unique, business-specific designs help announce your storefront, then draw in and maintain foot traffic:
Malls
Strip malls
Outlet stores
Stores with off-street entrances
Commercial storefronts benefit from both the look and the functionality of directional signs. Both temporary and permanent wayfinders have retail advantages. Storefronts can create timely signs promoting flash sales, specialty merchandise or time-sensitive deals to pull in passers-by, while permanent wayfinding signs guide guests precisely to — and through — your doors—place signs in high-traffic strategic locations to get the most for your retail operations.
3. Custom Directional Signage for Events
Specialty events call for specialty signs. Keep guests comfortable, reduce location confusion and decrease traffic congestion at large events through wayfinding signage. Put your creative stamp on many of the following events:
Weddings
Birthday parties
Bridal or baby showers
Farmer's markets
Fairs or carnivals
Fundraising events
Event signage can be used both to help guests find your special event and navigate within it. Hang directional signs from posts for wide-reaching, overhead visibility, or mount them on walls and doors to alert critical messages, doors and rooms.
4. Directional Signage for Office Buildings
Large and small office buildings alike require wayfinding signage for intuitive navigation. Allow employees to effortlessly find designated meeting rooms, clients to make their way to conference gatherings and guests to locate relevant waiting rooms. Office directional signage allows easy and natural guidance without visitors needing to stop passing strangers or employees and ask for directions.
Use directional signage to indicate the locations of:
Various departments
Conference rooms
Waiting rooms or guest lobbies
Event gathering spaces
Recreation or break rooms
Private offices
Breakout pods or quiet work stations
5. Directional Signage for Trade Shows
High-quality graphics signage makes your trade show events sing. Stand out amidst the aisles of booths, banners and other businesses with eye-catching, custom floor or wall pieces containing branded imagery and messages.
Wayfinding and directional signs add pops to your branded promotions as well as help visitors find your booth or display. Hang wayfinding signs overhead, mount directional materials on your booth walls, set wayfinding floor decals or place standing directional signs to draw traffic — and attention — where you want it most.
Directional signage for trade shows comes in many sizes and varieties. Consult your local SpeedPro studio on the wide range of tabletop, floor, ceiling, freestanding or banner directional signage options for your next industry event.
6. Directional Signage for Campuses
University and corporate campuses contain dozens of buildings requiring a clear designation. Directional signage helps visitors find the exact building they need and how to navigate within them.
Place wayfinding signs to help individuals locate:
Staff and faculty offices
Dorm buildings
Classrooms
Lecture halls
Media rooms
Cafeterias
Event spaces
Conference and board rooms
Speak With Your Local Studio for More Info on Using Wayfinding Signage
Make the Most of Your Space With Commercial Directional and Wayfinding Signs
Boost your company's branding with directional and wayfinding signage that welcomes, connects and informs all at once every time someone steps foot in your space.
The visual communications experts at SpeedPro offer a full suite of services to help you create the ideal directional signs for your business or office. Turn simple messages into impactful points of branding. Each SpeedPro studio provides a dedicated account representative, plus design and print specialists ready to bring your vision to life.
Find your local SpeedPro studio today to get started.