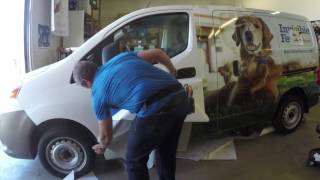 SpeedPro specializes in creating bold graphics that get your message in front of consumers. We do that through custom vehicle wraps, which are an effective advertising method for cars, trucks, motorcycles and boats.
Transit advertising is an excellent way to reach more consumers at a lower cost per impression than most other forms of advertising. Plus, their size and placement make them especially impactful. Let's explore what makes vehicle wraps so effective, and how they can benefit your business.
---
Table of Contents
---
Why Should I Use a Vehicle Business Wrap?
Think about when you're sitting in traffic and another vehicle catches your eye. It might have a cool paint job, a clever bumper sticker, or a colorful advertisement on its side. That moment sticks in your mind. Vehicle advertisements reach people at an opportune time and increase visibility for the company.
Imagine if every time you drove a company car through town, you turned it into a mobile billboard, displaying your image in bright, bold lettering and converting viewers into customers. Custom auto wraps essentially do just that. They put your image front and center whenever you hit the road. Plus, many viewers are automatically part of your local target audience because they live or work in your area.
Here are a few more reasons that business owners love custom business vehicle wraps.
1. Vehicle Wraps Are Cost-Effective
When it comes to returns on investment (ROI), out-of-home (OOH) advertising generates an average of $5.97 in product sales for every dollar spent. And its popularity continues to grow, so your investment will have a lasting impact. Vehicle wraps are an excellent way to get the most bang for your buck.
Since these custom wraps go on your company's vehicles, you don't need to rent space to display your ad. Your only investment is the one-time cost of the wrap, which will continue to pay off as your business gains exposure. Vehicle wraps can also help you protect the finish on your vehicle.
2. Vehicle Wraps Are Well-Received
According to the Outdoor Advertising Association of America (OAAA), people respond well to OOH ads because they aren't intrusive to a person's everyday life unlike other mediums. Car and truck wraps are a great way to explore creative ad options and create an enjoyable experience.
Advertising may offer a possible solution to a problem a potential customer may currently have. When you make an impression during their commute, it allows them to consider your business while they drive and positively associate with your brand.
3. Vinyl Wraps Increase Brand Awareness
Simply having your image in front of people is a great approach, but when combined with other advertising channels, it can boost your reach substantially. For example, adding OOH ads to your social networking channels can increase your daily reach by 212%.
Essentially, people see OOH advertisements and move to the internet to learn more and interact. In fact, 58% of consumers report that they have gone online directly after seeing an OOH ad. Whether you're looking to increase brand awareness or create direct conversions, a vehicle wrap can do both.
4. Vinyl Wraps Protect the Vehicle
Whether your business owns or leases a vehicle, you'll want to avoid damages that can lead to hefty fees or lower resale values. With a layer of vinyl over the paint, the dirt and gravel hitting your bumper will affect the wrap, not the vehicle itself. You can easily swap out portions of the wrap as needed and forego expensive repairs for chips and dings.
Plus, when it's time to remove the wrap, the adhesive is formulated to keep things looking good as new, as long as it was applied correctly. It also leaves your vehicle with its original color, so you can return a leased vehicle without altering it like you would have to do with a paint job.
Click here to learn why Vehicle Wraps are better than Custom Paint.
5. They Are Flexible
Vehicle wraps are unique from most other advertising mediums in that you can move your ad around to places where it is likely to be effective.
If you want to target certain audiences, you could drive around parts of town where that demographic lives. Having a billboard on your car offers lots of new options. If you provide a service, parking outside a home where you're redoing a roof or fixing the plumbing may attract attention from neighbors who need similar work done on their homes. Food trucks often park themselves in busy areas, where people may want a quick bite. You can even consider where the type of food you sell will go over best. Warm pizza might be good near nightclubs, while ice cream could do well outside a water or theme park.
Contact a Studio Near You to Start Creating Vehicle Wraps for Your Business
Vehicle Wrap Options and Products Available
Part of the beauty of custom automotive wraps is that they come in so many options. At SpeedPro, we offer window coverings, spot graphics, partial vehicle wraps and full vehicle wraps to meet your needs and budget. And, of course, your wrap will bear your custom design. Let's look at the different coverage options for your vehicle:
Full vehicle wrap: Full wraps cover an entire vehicle, including cars, buses, vans, and boats, delivering a dramatic message to anyone who sees it. They'll cover the hood, the roof, the pillars, the sides, and any other place where paint could show through. They can even cover the windows. Typically, full wraps are the best choice for businesses looking for maximum exposure and a cohesive design. You can advertise with the whole surface area of your vehicle, and you don't have to worry about it not matching.
Partial vehicle wrap: You can save money and only cover a few parts of the vehicle with a partial wrap. You may have half of a bus to cover, or you may want to leave your car's roof the original color to go with your design. A partial wrap can accomplish that and wrap just a few parts of the vehicle rather than the whole surface.
Spot graphics: You can also customize your vehicle in smaller ways with spot graphics. For instance, you can apply your logo without necessarily wrapping the whole vehicle or even a whole section. We offer smaller spot graphics to bring your imagery to a vehicle at the lowest cost. Window decals can also be an excellent addition to your vehicle.
Window coverings: Though they are typically an element in a full wrap, you can cover your windows with a perforated vinyl that extends your design over them. Window coverings are see-through from the inside, so that they won't inhibit a driver's or a passenger's visibility. From the outside, they appear as a solid design.
However you choose to cover your car, partial and full vehicle wraps allow you to customize your image just how you want it without paying for parts you don't.
Schedule a Free Consultation to Learn More About the Vehicle Wrap Options Available
When to Use a Vehicle Wrap
Some business owners think that vehicle wraps are reserved for the largest companies with full fleets at their disposal. But vehicle wraps are perfect for businesses of all sizes due to their low cost, high ROI, and local influence. Smaller businesses can especially benefit from the boost in visibility that large businesses might already have established.
Custom car wraps are also effective for local businesses with services that people can't buy online, like plumbing or cleaning companies. Seeing these vehicles around town shows that they are nearby. Also, these types of businesses usually spend their day moving around town where employees can expose a company's ad to everyone they drive by.
Here are just a few examples of companies that can benefit greatly from custom vehicle wraps:
Utility services: If your company does plumbing, HVAC work, home repairs or other service-based fixings, custom van wraps or truck wraps can promote your business while you zip around town from client to client. It's an excellent way to put your vehicle to work doing the same things it already does.
Food trucks: When your business moves around a lot, you need as much visibility as possible so your customers can see you. Bright, bold wraps ensure that your food truck stands out and can tell your story. Printed wraps are practically a requirement for food trucks, and your design can provide more information about what you serve.
Cleaning services: Like utility services, your vehicles likely see many parts of town in one day. With vehicle wraps, those trips can become valuable advertising opportunities. Use your graphics to promote the character of your company along with the services you offer.
Painters: Painting crews might fill up a van or truck with all their tools, providing a large space for your advertising efforts. As you go from building to building and passersby see your vehicle in the driveway, you'll boost your visibility to everyone else in town.
Delivery services: Maybe your company offers delivery on items like flowers, appliances, catering or baked goods. Bringing these items to your customers in a branded delivery vehicle lets you reinforce your imagery and advertise as you go. It can also help recipients note your professionalism and understand who is approaching their front door.
While these are just a few examples, almost any business with a company vehicle can benefit from business car wraps, especially if they focus on business-to-consumer transactions.
Talk to Your Local SpeedPro Studio About Your Business's Next Vehicle Wrap
Installing Custom Vehicle Wraps
One popular question that often comes up with car wraps regards the difficulty of installation. How hard is it to install, and what tools do you need to do it? The short answer is that you should leave it to a professional. If a custom vehicle wrap isn't installed correctly, it can damage your paint job on removal.
Another issue is that a do-it-yourself installation can look unprofessional. You want to put your best foot forward on all marketing materials, and a bubbly, peeling paint job after a week is not the most professional look.
Once you hand your vehicle off to a pro, here's how they install the wraps.
First, the installer appropriately prepares the surface of the vehicle. This includes removing any rust, dents or paint abnormalities that could get in the way of the adhesive or show through on the finished result.
Several installers will stretch the vinyl panel over the vehicle's components one at a time and wrap it around. They use heat guns to warm up the adhesive and smooth out bubbles, alongside special squeegee tools.
Lastly, they'll conduct a final inspection and ensure there are no air gaps or other issues.
After they finish up, you can expect a car wrap to last for many years, but excessive sunlight can cause problems like fading. So, consider parking the car in the shade when possible to get more longevity out of your wrap.
Contact SpeedPro for Help Installing Your Custom Vehicle Wrap
How to Care for a Business Vehicle Wrap
While a custom vehicle wrap is pretty low-maintenance, there are some steps you can take to keep your wrap in tip-top condition. The main consideration is to keep your wrap clean to help it last as long as possible and look as fresh as the day you bought it.
You rinse the car and scrub with a non-abrasive, mild detergent to clean the wrap. Make sure the detergent does not contain alcohol. Give it another rinse and air dry or use a microfiber cloth. Spot clean the wrap as needed, such as after bug splatters or bird droppings hit. You can also pressure wash the car or take it through a drive-through if absolutely necessary.
Another way to keep your wrap clean is to protect it from damage in the first place. You can park in covered areas or use a fabric cover when your vehicle isn't in use. Avoid driving on loose gravel roads, where rocks and debris can kick up onto the sides of the car.
Vehicle Wrap Design
Designing vehicle wraps is a bit different than designing other types of signage. You'll have to take care to design precisely for the specific vehicle you'll be applying your wrap. This goes beyond just noting the make and model. Suppose your vehicle has aftermarket additions or damage that deviates from manufacturer specifications or additional damage. In that case, you need to account for these details, or you could end up with a wrap that doesn't align.
Always design for high visibility. Bold colors will stand out from all the other bright colors of the road, while big fonts ensure that people can read your wrap from far away and at high speeds.
Your wrap should maintain your company's signature colors and fonts where possible, along with a prominent logo and a call to action. Do you want them to visit your website or call you? Place that information on your wrap.
You can learn more about designing vehicle wraps on our blog. SpeedPro experts can help guide you through the process. Remember that this is a great opportunity to be creative. You can really stand out with a stunning vehicle wrap design that shows off your company's brand identity.
Schedule a Free Design Consultation for Your Next Vehicle Wrap with SpeedPro
Stand Out With Vehicle Wrap Printing From SpeedPro
Of course, not every vehicle wrap is created equal. If you want one that provides high-quality graphics on a long-lasting material, SpeedPro can help. When you invest in a wrap from us, you make an investment in your company's future.
With a high-quality wrap, you'll stand out from the competition — no peeling or bad graphics on your company car. A bright, bold wrap will ensure that your viewers can see your custom automotive wrap from far away and will bring them closer to becoming customers.
You spend a lot of time showing why your business is a cut above the rest. A quality wrap job can help by adding professionalism and visibility to the mix. An unmarked service van, for example, is likely to leave a negative impression, while a branded van will help you make a positive first impression and instill trust. Improve your clients' confidence and boost advertising simultaneously with a vehicle business wrap from SpeedPro.
Our team at SpeedPro is ready to consult with you and learn about your company's unique needs and goals. In our consultations, we also discuss budgeting, so you can be sure that everything fits with your projected advertising expenses and there are no unpleasant surprises. After we figure out the scope of your project, we'll create a custom plan for your business vehicle wrap.
After creating a car wrap with us, you'll see why our clients come back to us time and time again. Your needs are our priority.
Find your nearest studio today to get a quote and begin planning a vehicle wrap.