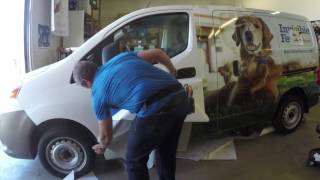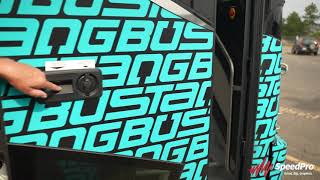 It's hard to imagine a world where traffic jams and long commutes are desirable things — that is, unless you're talking about commercial fleet wraps.
These mobile advertising mechanisms let you rule the road, grabbing the attention of other drivers with graphics displaying information, such as your logo, company name, website and phone number. Car wraps for businesses are especially attractive if you're pushing for broader brand awareness, recognition and reach. These days, who isn't?
You probably want to know what exactly fleet wraps are and if their right for your business. Let's explore how these visual advertisements can put some pep in your vehicles' steps and curate more impactful branding.
---
Table of Contents
---
What Are Fleet Wraps?
Fleet wraps are a premium way to take advertising on the road — literally. They are large vinyl graphics and decals installed on the exterior of your business' trucks, delivery vans or service cars. When finished, they bring cohesive company branding to your complete squadron of vehicles, making them unmistakable in public.
Fleet wraps can take up a portion or cover the entirety of a vehicle. They're specifically fabricated for cars, so you don't have sloppy, messy or unprofessional-appearing logos slapped on a side door, color schemes that clash or fonts misaligned with your brand. In fact, the best fleet wraps go beyond merely labeling a car with your information. They relay your company's values and give a sense of its personality, capturing real consumer attention along the way.
From a well-placed tagline to a moving visual catalog of your company's products or services, fleet wraps are one of the most important visual-marketing tactics you can undertake. Plus, they're a good investment:
Why Have Fleet Wraps?
Advertisements explicitly designed for business vehicles make your brand go mobile. If this sounds like industry fluff, think again. With Americans spending more time than ever in their cars, companies have a lot to gain when they direct advertising efforts toward those on the road:
Translation? Installing fleet wraps on your business vehicles is a proven and cost-effective strategy to convert passive eyes into paying customers.
Plus, as vehicle technology evolves, businesses using fleet wraps to advertise are poised to reap even further benefits. Though it may still seem like something out of a sci-fi movie, self-driving cars and emerging vehicle artificial intelligence means those consumers "driving" around will be less and less focused on the actual driving — and more available to see, take in and remember surrounding information. It's a dream scenario for your brand.
If you're still not convinced, here are more reasons to consider installing fleet wraps for your business' vehicles — on top of their advertising ripple effects:
Wrapping improves the appearance of used or older vehicles.
Wrapping makes your company appear more professional, credible and memorable.
Wrapping unifies the appearance of your public-facing transportation.
Commercially wrapped fleets are unmistakable, as unique as your business.
Vinyl wrapping is considerably easier to update and manage — much more so than making paint or airbrushed-based alterations to your vehicles.
Contact a Studio Near You to Get Fleet Wraps for Your Business
How Can You Customize Your Commercial Fleet Graphics?
Custom fleet graphics are highly customizable, allowing you to place your brand-specific colors and designs on them. A design studio can look at potential custom fleet graphics and help you determine what's best for your company. With fleet wrap graphics, you can include crucial information that advertises your products or services to potential customers.
For example, if you're a painting company, you might want to wrap your work vans with your company's logo, some imagery of your crew at work and contact information. Those operating a restaurant may want to install graphics of their food, logo and information about their delivery services on their vehicles. No matter what your company does, you can customize commercial fleet graphics to display your company's unique offerings and increase brand awareness.
Alongside their customizability in terms of design, custom fleet graphics are also available in different sizes. You can select from window coverings, spot graphics, partial vehicle wraps and full vehicle wraps. Learn more about the four main sizes of custom fleet graphics you can choose below:
Window coverings: Often included in a full wrap, you can wrap your windows with high-quality graphics. These perforated vinyl wraps allow you to extend your advertising to the windows of your vehicle. A great feature of window graphics is that they're see-through from the inside, meaning they don't affect a driver's visibility. On the outside, they look solid, blending in seamlessly with the graphics on your body panels.
Spot graphics: When you only want to customize a small part of your vehicle, a spot graphic is the option for you. These decals don't take up much space and can be applied all over your vehicle. Spot graphics often take the form of logos or company names. You can dress up work vehicles, making them look more professional and spreading brand awareness while your team's out on a job.
Partial vehicle wraps: Partial wraps offer a middle ground between spot graphics and full vehicle wraps. These wraps are designed to cover only a few sections of a vehicle. They're popular among companies that want to leave part of their vehicle untouched.
Full vehicle wraps: As their name suggests, full vehicle wraps are fleet wrap graphics covering all of a vehicle. They'll go over pillars, sides, roof, hood and any other place on your vehicle that's painted. Full vehicle wraps can also cover the windows, helping you use your entire vehicle as a canvas for advertising. A great part about fully wrapping your vehicle is that you don't have to worry about your vehicle's paint job matching the graphics.
Schedule a Consultation to Customize Your Commercial Fleet
Are Fleet Wraps Easy to Install?
Fleet wraps are a combination of high-resolution images and text printed as a large vinyl graphic. This vinyl is intended explicitly for installation on a vehicle's surface, with a final protective laminate coat and a finish of your choice.
At their core, custom fleet wraps convey what your business is about at a glance. This doesn't mean they're forgotten as quickly as they're seen, though. Make sure every impression counts with designs that match your company's personality and advertising objectives.
Fleet graphics installation is a relatively straightforward process:
After a final design is agreed upon, graphics get printed in panels on a special, car-friendly type of adhesive vinyl.
This vinyl is treated with a durable laminate layer to protect its integrity as well as the quality and coloration of the graphics from UV rays, dirt and debris.
The car gets prepared for the vinyl, A thorough car wash is required before fleet graphics installation, plus a final chemical-based rinse afterward to remove any remaining wax, oil, grease or dirt from its surface. These things directly impede the vinyl from properly sticking.
Once the car is clean, panels are attached to the car one at a time. Panels are pre-marked and arranged for easy installation, fitted and pressed following a set design proof.
A final installation inspection is completed, and your fleet-wrapped cars are ready to hit the road.
Printing and laminating the initial vinyl sheet takes around three to four days, depending on size, colors, the ink used and detailing. Installing the wrap on the entire business fleet takes another few business days for service cars or vans. If you outfit a whole fleet of trucks, you'll understandably increase that timeline.
Can I Fleet Wrap My Vehicles Myself?
Generally, you should not try fleet wrapping your commercial vehicles by yourself. This is especially true if you use vans or trucks for business operations. Leave the installation to the professionals — many of whom are trained and certified in proper fleet vehicle wraps.
Attempting a do-it-yourself wrap can leave you with more problems than when you began, especially concerning the following:
Specialty tools: Installing wraps takes particular scissors, scalpels and adhesion tools the average person doesn't likely have sitting in their tool shed.
Exacting precision: A properly installed vehicle or fleet wrap hugs a car air-tight. There are minimum bubbles or wrinkles across its exterior.
Patience: You can't rush a professional fleet wrap. The quickest turnaround for a single vehicle will mean a full day's wrapping.
Professional training: What may seem as simple as putting stickers on a car is actually a deceptively detailed process that takes hours of labor — and more than one pair of hands.
Multi-staged: Aside from wrapping the body of your car, individual installation steps occur for windows, roofs and vehicle curves. Applying a wrap to windows alone requires handling graphics on a perforated window film more delicate than the regular graphics vinyl.
A wrapping studio should aid in the successful installation of your fleet wraps and graphics as much as you require. Communicate both your design and installation expectations early on to ensure you're getting your needs met.
Have Your Local SpeedPro Design and Install Your Fleet Wraps
Can Fleet Wraps Harm Car Paint?
The short answer? Custom fleet wraps should not damage the factory paint of your vehicle.
The longer answer? Custom fleet wraps should not damage the factory paint of your vehicle — unless there were problems on your car's surface before the wrap was installed:
Previously painted or airbrushed vehicles may experience peeling when the wrap is removed. The average fleet wrap lasts between three to five years, though sometimes longer.
Bodywork with scratches or dents not caught during inspections can also cause peeling, as well as weaker vinyl adhesion during and after installation.
Freshly-painted cars should wait a minimum of two to three weeks before being wrapped.
Pre-test your paint before beginning the wrapping process. This guarantees your commercial vehicles have a proper-conditioned surface and original factory paint.
If anything, fleet vehicle wraps should actually help protect the surfaces of one of your most precious business assets. That's because its protective laminate and glossy or matte-spray finishes give your vehicle an extra layer of defense. As long as your cars have factory-quality paint and the graphics vinyl is removed during its warranty, your vehicles should be safe.
Similarly, your vehicles' base color does not affect the quality of the wrap. It does, however, present an aesthetic choice:
Black cars, trucks and vans best hide the gaps between installed vinyl and small but inevitable unwrapped car areas. These include places like the gas cap filler and vehicle door seams.
The portion of the vehicle left unwrapped likely depends on if you want a full or partial covering. Partial wraps typically get applied on vehicle doors, rears and sides but not on hoods, roofs or the car's front-quarter panels. A full wrap covers all these areas.
As a general rule of thumb, the darker the car color, the easier it is for vehicle wraps to blend or hide seams.
Are Fleet Wraps Easily Removed or Reusable?
Yet another benefit to fleet wraps? As your business grows and develops, so too can the graphics displayed on its cars.
That's because fleet wraps are inherently customizable. Across their warranty, you can easily switch or swap panels as well as make vinyl alterations using graphic overlays, which are small labels added on top of the existing panels.
Graphic overlays are designed to match the existing vinyl's colors, seams, images and more as much as possible. They are ideal for any of the following situations:
Company information changes: If your phone number, website domain, address or other pertinent business information changes, you don't have to worry about completely re-doing your entire line of vehicles.
Logo tweaks: Rebranding efforts are made smoother when you overlay new logos atop outdated ones.
Minor panel damage: Though rare, small scratches or discoloration on pieces of the vinyl — or a whole patch — don't have to compromise the entire look of your fleet wraps. Quickly install a new graphic overlay over the damage, and your fleet wrap graphics will look as good as new.
Reach Out to SpeedPro About Replacing Your Current Fleet Wraps
Removing Fleet Wraps
Fleet-wrap removal is included in most warranties. Most shops and studios recommend refreshing your commercial cars' wraps every three years. This refresh ensures no damage to the underlying paint or factory clear coat. Plus, it lowers the chance that large amounts of residue will build up beneath the vinyl's surface.
Removing fleet wraps is also relatively quick — usually a day per vehicle. This ensures your fleet of cars won't sit out of commission for too long. You can get back on the road — and back to converting drivers into customers — in no time.
How Can You Clean Fleet Wraps If They Get Dirty?
Caring for your fleet wrap is simple and straightforward. Like you would with any unwrapped car, basic cleaning, polishing and maintenance routines are encouraged:
Handwash your car whenever possible to remove dirt and grime. Avoid using chemical solvents, corrosives or harsh washing equipment. A little soap and water go a long way.
If you must get an automated car wash, opt for the gentlest cycle possible. Never put your wraps under pressure washers.
Wait a week or two after your vehicles have been wrapped to do any rinsing or washing.
For more specific cleaning and care practices, follow these part-specific guidelines:
1. Bodywork
Here are our top tips for caring for wraps on the body of a vehicle:
Maintain a regular washing schedule. Dirt, grime and dust that's allowed to build up can affect the integrity of the vinyl's graphics and make your professional car look bad.
Keep your vehicles out of direct sunlight when not in use. Avoiding direct sunlight prevents graphics from fading prematurely and keeps the overall condition of the wrap pristine.
Hoses and water streams are okay to use on vinyl. Just make sure you aren't blasting your bodywork with a liquid jet stream. Use a nozzle with a 40-degree or wider angled spray. Stand at least a foot away from the car as you spray, using warm or room temperature water, never hot.
Brushless automatic car washes are okay if you must have a mechanical car wash. Try not to do these too frequently, though.
Avoid abrasive washing tools or rough scrubbers. These will only scratch the vinyl.
For particularly tricky stains and spot treatments, explore our list of fleet-wrap safe cleaning treatments under "Difficult Contaminants" in our How Do I Care for a Wrap FAQ tab. This FAQ answer includes specific products that have been tested and are safer to use to get rid of bird droppings, tree sap and more water-resistant stains.
High-quality wax and polishes are safe on most vinyl films and their laminates. Opt for gentler formulas, never abrasive ones.
Do not wax or polish matte-finished or textured laminate vinyl, however.
2. Windows
Window wraps need special attention. Here's how to care for them:
Avoid ice scrapers on window graphics. Use your window defrosters on a high setting and gentle, sweeping motions from hand-held soft brushes to get rid of snow or ice on your windows.
Avoid rear window wipers on your window graphics as much as possible. Otherwise, the swiping streaks will begin to show on the pictures or text.
Try to avoid rolling down car windows outfitted with graphics. Just as with the rear window wipers, rolling the windows down will scratch the graphics.
If graphics appear to be browning or discoloring, keep vehicles stored indoors or under a sheet cover. The car may be growing discolored due to acidity in rain or morning dew, especially if you live in an urban area.
Custom Car Wraps Nearby for Your Business
Professional graphics for your business means more than standing out from the crowd. It's about conveying an experience — one that propels your brand identity and makes people want to engage with you, time and time again. With a range of quality, custom car wraps for your complete fleet of commercial vehicles, you can stand out from the crowd for all the right reasons.
Find a SpeedPro studio near you to get started on a fleet vehicle wrap design today.