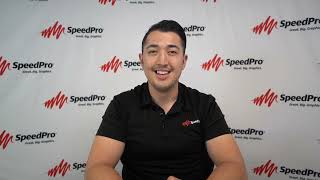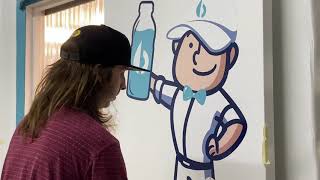 Signs are everywhere. They're on the highway, on your street and in buildings all across the U.S. Considering this fact, you may think people would be likely to tune them out, but that couldn't be farther from the truth. Signs often contain essential information, so we're used to paying attention to what they have to say.
Custom signs and specialty graphics allow you to get people's attention and share your message, whatever that may be. They can be used in your business, outside and all over town. You can even pack them up with you when you go to an event. The uses for custom graphics are nearly endless. SpeedPro understands just how important signage is to your business, and we can help create custom graphics that are sure to make an impression.
---
Table of Contents
---
Benefits of Custom Signs and Graphics
Why are graphics so critical for your business? Perhaps the simplest explanation is that humans are largely visual creatures. We like to take in information with our eyes — and not just text but images and colors too. In fact, our brains tend to be especially good at storing memories that are based on visual data.
Custom signs and graphics are your company's ticket to sharing your message in a memorable way. It's your way of helping people see and experience what your business has to offer, and it's also your way of reinforcing your brand with employees. Let's look at some more specific examples of what custom graphics and custom signage can do to benefit your company.
Enhance Your Working Environment
Many people spend more of their waking hours at work than they do at home. It's no wonder, then, that employees try to personalize their desks and other workspaces to make them feel inviting. But what about the rest of the office? What about your lobby, collaboration spaces, hallways, conference rooms and more? Are these spaces inviting?
In a study by Cass Business School, most people agreed that their working day is affected by the design of their workplace. Another survey found that 78 percent of the 800 respondents agreed that art in the workspace reduces stress. Whether it's an office building, a retail space or even a warehouse, your employees will enjoy being at work more when the walls, windows, elevators and more are covered in striking custom graphics.

Immerse Employees in Your Brand
Another benefit of custom signage is that it allows you to feature bold messages on the walls that employees will see every day, which can help reinforce your brand. Even something as simple as your logo or slogan can create a sense of place and pride for employees and won't let them forget what they're all rallying behind. Of course, your company's logo is really just a symbol of what they're rallying behind. Your employees should share a commitment to your company's values and goals.
If you want to communicate your company's mission and purpose, why not create a bold custom graphic and place it in a prominent place, or prominent places, in your building? Also consider posting signage about your core values or anything else that defines your brand.
Provide Wayfinding Throughout Your Building
Wayfinding signage is how we help people navigate through our buildings. You likely already have some signs showing people which direction the bathroom is and label certain rooms. However, in many cases, these signs are generic, meaning rooms are labeled with numbers, and your directional signage looks like any other directional signage.
With custom specialty signs, however, you can enjoy more freedom to incorporate wayfinding signage that's unique to your company. This signage will allow you to label rooms with names that are more fun and memorable than "14" or "2B." It will also let you incorporate your branding in more places throughout your building. A variety of graphic types can be used for directional signage, including wall and floor decals. You can also use digital signage to create an interactive map for your lobby.
Raise Awareness of Your Brand
Your brand isn't important only when it comes to your employees. You also want to raise awareness of your business among consumers. Whether they see a company vehicle on the road, step into your location or stop by your booth at a community festival or trade show, you have to make an impression fast. You don't want people to see blank walls, tables or other surfaces. You want them to see vivid graphics that show them what your company is all about.
Your branding is how you make your first impression, and you want that impression to be a lasting one. One study found that when people see color, it can increase their brand recognition by up to 80 percent. Corporate graphics can include vivid colors, eye-catching designs and bold text that are sure to get people's attention and promote your brand.

Show Project Professionalism
Custom signs do more than just making people aware of your company's brand. They also indicate that your business is highly professional. Have you ever seen a blurry picture or a typo in a company's advertising or signage and allowed it to influence your opinion of how competent or professional the company is? A lack of signage can also indicate a deficit in professionalism.
No matter where you are, high-quality corporate signage allows you to project an air of professionalism to the world. These custom graphics tell people you're well-established and that they can trust you with their business.
Share Temporary Messages
Since custom signage doesn't have to be permanent, you can also use it to share temporary messages, which are any messages that are only true or relevant for certain periods. For instance, you might want to display current stats about your company's success to motivate employees. Messages like this will need to be updated, but they should still be printed on decals or other types of signage that you can proudly display in the office.
You can also share temporary messages with customers. For example, if your boutique's hours will be different during the holiday season, you can use a custom window graphic on your front door to make sure your customers are aware of the seasonal change. If your store is having a big sale, you could just use a generic banner that says "SALE" on the exterior of your building. An even better option, though, is to create a custom sign that includes more specific information about your sale and pulls in more customers.
Schedule a Design Consultation with Your Local SpeedPro
How to Use Signs and Graphics for Marketing
Custom signs and graphics can be used in myriad ways to help you market your business or organization. As we've seen, corporate signs and graphics can do a lot to enhance your office space and help reinforce your branding with employees. When it comes to marketing, however, activity usually takes place outside your office walls. Let's look at some scenarios where custom signage can work wonders for promoting your business.
At Trade Shows and Expos
Trade shows, exhibitions and expos are important avenues for face-to-face marketing. These events are either aimed at B2B (business to business) or B2C (business to consumer) interactions. Either way, you want to use every inch of the booth space you're given to grab the attention of attendees and raise awareness of your brand. To stand out from other companies at a trade show or similar event, you have to remember that quality graphics are essential.
These specialty graphics can be displayed in a variety of forms. A large popup display that spans the back of your booth can command attention and ensure that passersby can't miss seeing who's occupying your booth. A custom table covering can add a professional touch to your table. Banners on stands, backlit graphics, digital graphics and more can all help you get your message across too.
At Community Events
Especially for small businesses, engaging with the local community is an excellent way of showing you care and potentially generating new leads. Whether you're sponsoring a community event, like a fundraiser, fair or festival, or you pay to set up a booth, you want to make sure anyone who attends the event notices your company.
A custom event tent is one of the best ways you can show off your branding while enjoying shade or shelter from the elements. You can also use other types of graphics, such as banners or table toppers, to make sure anyone who walks by or steps into your booth space learns more about who you are and why they should be interested.
On and Around Your Building's Exterior
Especially if your business is located in a place where foot traffic is common, you can take advantage of your building's exterior to help market your business. One of the best things about including signage on the outside of your building is that you don't have to pay a third party for the advertising space. It's your space to decorate as you see fit, so why not use it to show off your brand?
For example, sidewalk signs are a common way of letting people know where your business is located, but they can sometimes be lifeless and fade into the background. You want your sidewalk sign to be eye-catching, and there are other types of signage you can include as well.
For example, most retail spaces and many other types of commercial buildings are covered in windows. Of course, allowing people to look into your store or business as they walk by is already an effective marketing tool, but you can also use those windows to display graphics and messages that encourage passersby to step inside. Banners and flags can also help get the public's attention and direct all eyes to your business.
On the Road
If you have company vehicles, you have blank canvases that can be used for advertising on the go. Imagine someone interested in having some landscaping done at their house pulling up next to a truck that's covered in vivid graphics about a landscaping business right there in their local area.
Like graphics you place on and around the outside of your building, vehicle wraps won't cost you the extra money of paying someone for advertising space. Instead, you can invest in fleet wraps once and then spread the word about your business wherever your employees go. Many people choose to include contact information in their graphic too so that anyone inspired by the sign can find or call the business right away.
In Public Spaces
Public places, such as parks, restaurants, hotels, shopping malls and similar locations, can also be excellent spaces for advertising. Consider where your target clientele might spend their time, and look into advertising there. When you pay for advertising in public places, the key is to get the most return on your investment by making sure your ad is the best it can be.
Eye-catching graphics with bold text are likely to attract attention and can help generate interest in your business all over town. Based on the space available, you can select the right type of graphic. Outside, you might include an adhesive-backed graphic on a bench, whether it be at a bus stop, a park or elsewhere in the city. Inside a mall or hotel, you might use an elevator wrap to enthrall anyone waiting on or riding the elevator.
Discuss Your Custom Sign and Graphics Needs with Your SpeedPro Studio
Types of Signs and Graphics
Industry signs and graphics come in a wide variety of forms, and when it comes to specialty graphics, the only limitation is your imagination. Especially at SpeedPro, our extensive product catalog and specialty graphic design and installation professionals give you the freedom to choose the perfect medium and design for your custom specialty graphics. Here are the many types of corporate and custom specialty signs you can produce with SpeedPro:
With so many types of specialty graphics available, how can you possibly decide which type will best promote your business and let your messaging truly stand out in a sea of imitators? That's where the specialty graphic design and installation professionals at SpeedPro come in. Our studio professionals are happy to work with you to explore your specialty graphic material, finish and styling options and recommend quality products best suited for your unique company. SpeedPro uses the highest quality vinyl materials and state-of-the-art printing and design tools for exceptional precision and accuracy for a clean, professional final look every time.
Start Designing Custom Signs and Graphics with SpeedPro
Embrace Bold, Custom Messaging With SpeedPro Specialty Graphics
Make your messaging special with eye-catching, high-quality custom specialty graphics from SpeedPro. Whether you desire an impactful, large-scale wall mural or vehicle wrap to add personality and meaning to your workspace or prefer creating a one-on-one connection with customers using directional signage, floor graphics or indoor signs, our design team can help you find meaning and inspiration for lasting results. We understand designing and executing quality specialty graphics can be challenging, but we have a streamlined creation process, so it's hassle-free, straightforward and enjoyable.
Let SpeedPro handle every aspect of your specialty graphics creation process, including:
Graphics design and layout
Site inspections and permitting
Fabrication
Stand out With Signs and Graphics From SpeedPro
When signs and graphics demand the utmost in quality, SpeedPro delivers. Custom display graphics are our specialty at SpeedPro. In a business world that likely includes formidable competition from others in your industry, it's crucial that you maximize your advertising efforts and keep your company front and center with customers. SpeedPro is an expert at creating undeniably effective visual communications.
Our expert staff takes a personalized approach to every project to ensure the graphics we produce meet or exceed expectations. Consultants will spend time learning about your company and the unique purpose for your display graphics. We'll then help you select the right materials for your project. Expert color matching is always available to make sure new display graphics match your existing materials.
As the nation's leader in wide-format graphics, we can assure you that no job is too big for us. Find a studio near you to get started.