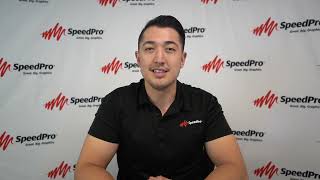 A retractable banner can reach out and grab the attention of potential customers. They're ideal for trade shows and conventions, lobbies, and retail displays in stores and shopping malls. No matter where you want to share your branding or message, a custom banner display can help you do so in style.
SpeedPro offers a multitude of graphic display options that can fulfill the visual communication needs of any client, and our retractable banners and stands are no exception. With such a variety to choose from, we're confident you can find the perfect retractable banner stand to help show off your eye-catching graphics to your prospective customers.
What Are Retractable Banner Stands?
Retractable banner stands are one of the most popular types of banner stands, especially for trade shows, conventions, and other events. These stands are also called roll-up banner stands because they use a spring-like mechanism to roll banners back into the base when they're not in use. The base sits on the bottom, so you pull up on the crossbar to display your banner.
This crossbar also keeps the banner from getting lost in the base and gives a nice, crisp edge to the top of your display. A bungee or telescoping pole in the back supports the banner and holds it in place. Retractable banner stand bases are equipped with a foot base to allow it to stand securely. This type of freestanding display allows easy set up and take down in just a matter of seconds. Some retractors are designed so that the portable displays can be switched out without buying a new stand.
Because, retractable banners are lightweight, you can easily move them around your trade show booth, sidewalk, or other space as needed. You can even purchase carrying bags and cases, making it even easier to transport and set up portable displays.
Benefits of Retractable Banner Stands
Signs and graphics, are a critical part of marketing campaigns to help you raise brand awareness and communicate messages in a visually engaging way. Whether it is a vinyl banner or fabric vivid graphics are an excellent means of attracting the public's attention
In some cases, hanging a banner can work well in more temporary situations. However, sometimes it is not a feasible option and not always the most convenient. When you need simplicity a banner stand is the perfect solution. Not only does it help your graphics look sleek and professional, but there are also many other advantages.
Safe and Easy Transport
Retractable banner stands contain banner inside the base, which makes them compact and easy to transport. This quality is a huge advantage when you're in transit to a trade show or other event. In addition to being extremely portable, retractable banner stands protect your graphics and keep them safe. When your banner is rolled up inside of the stand base, you don't have to worry about damage during transit.
Easy Setup and Takedown
When you're hosting an event, you don't want your time spent setting up your displays. The quicker you can get set up, the quicker you can start making an impression. Retractable banner stands require no assembly other than simply pulling out the banner and connecting the supporting pole in the back.
Financial Value
Another benefit of retractable banners for businesses is that they're a relatively inexpensive display option. You'll love that a retractable banner offers a high-impact appearance at an affordable cost. The lowest-cost retractable banner stands from SpeedPro offers both economy, standard, or premium retractable banner stands to fit any budget. Whatever you budget, you will enjoy various sizes, sleek designs, and quality materials.
Long-Term Reusability
Since retractable banner stands from SpeedPro are made with durable hardware, you can expect your portable display stands to last. While all our retractable banners are made with quality materials, on higher-grade models, you'll have the benefit of stronger metal and higher-quality internal mechanisms, which makes these banner stands capable of standing up to heavy use. In fact, the premium reusable retractable banner stands come with a lifetime warranty.
Graphics are printed with the best inks on high-quality fabric or vinyl materials. Durable hardware and protected, high-quality graphics mean you can get a long and productive life out of your displays.
Banner Stand Height Flexibility
Another unique advantage of retractable banner stands is that they typically allow you to adjust the height of your display and how much of the banner you show. The telescoping pole or hybrid telescoping/bungee pole will allow you to determine the perfect height and then lock your banner into place.
Some retractable banner stands are also made so that you can change out the graphics they display. If your banner stand's height is adjustable, your new graphic doesn't even need to be the same size as the last one, which makes retractable banner stands especially versatile. The same banner stand can be used to either display one banner at varying heights or present altogether different banners.
Banner Stand Varieties
Though all retractors share many of the same key features, every model is distinct. With more than 50 models of retractable banner stands to choose from in our product catalog, you can be sure you'll find the perfect model to fit your desired aesthetic, banner size other requirements.
Because retractors are so diverse, your entire trade show display could be made up of retractable banners without looking boring or repetitive. For example, you could have tabletop display, a larger banner at the back of your set up, and medium banners at the front of your booth on either end. Of course, a retractable banner display can also complement a suite of graphics that includes other display types, such as table coverings, table toppers, point of purchase displays, and more.
Retractable Banner Stand Features
Here are a few different retractable banner stand features:
Single-sided: Single-sided retractable banner stands are made to feature one graphic. This setup is the standard for a retractable banner stand and looks great, especially if your banner will be sitting up against a wall or other object that blocks its back.
Double-sided: If you want your banner to stand out in the open and display a graphic on both sides, that's possible too. Double-sided banner stands are made to hold a banner on both sides, so you can have an even higher impact with just one stand.
Tabletop Displays: Tabletop retractable banner stands are made to sit on a table rather than on the floor. They feature smaller graphics. Tabletop displays are especially valuable if you have limited floor space.
Adjustable height: Adjustable height retractable banner stands make it possible to display graphics of various heights. Typically, the pole will lock into position at certain intervals. In some cases, you'll also have the option of adding an additional pole to increase the height even more.
Cassette: Cassette options allow you to store individual banners in their own roller cartridges separate from the retractable banner stand. When you want to display a certain banner, you'll simply plug in the cassette you want. This feature allows for especially convenient interchangeability.
Telescopic banner stand: Easy-to-assemble frame to which you can easily attach custom graphics printed on vinyl, fabric, or polyester. The stands are also designed to enable you to quickly add or take away pieces to expand or shrink the size of your display.
Aside from these various features, you can also look for banner stands that will complement the aesthetics of your overall display. Choose from bases that are silver or black metal, white plastic or even maple wood grain. The end caps of the base also come in different finishes. With so many finishes, sizes, quality ranges, and other features, the options for retractable banner stands are extensive, and you're sure to find the ideal solution for your business. If space is an issue, you may want to consider tabletop retractable banner stands.
Benefits of Tabletop Retractable Banner Stands
If you are short on space for your display you can still make the best impression for your business with tabletop retractable banner stands. These stands are extremely easy to use and can make your tabletop graphics pop. You can even use the tabletop retractable banner stands to complement the full-sized versions to grab attendees' attention with your eye-catching display both on and off the table.
One of the best benefits of tabletop stands, you aren't limited to just one size — go as small or large as you need. Plus, since these stands are incredibly user-friendly, it's easy to switch out the graphic as you need and reuse the stand anyplace and anytime. A retractable tabletop banner stand is a cost-efficient way to add-on for your next display.
There are plenty of different ways you can use your tabletop retractable banner stands. If you need some inspiration, consider the following ideas on how to use these stands for your next big event:
Additional information: Include any other information visitors would find helpful, like your contact info.
Branding: Feature your logo up close so that there's no question as to what company you're representing.
Beliefs: Share your mission, vision, or values up close so people can see what you're all about.
Call to action or conversation starter: Include something on your tabletop graphics that will get visitors to act. For example, you could include an "Ask me how we can…" question with a representative behind the graphic, ready to answer the question. This method is an excellent conversation starter and way to get people to interact with you.
Promotions: Use the tabletop stands to display any promotional information you have running at the time.
Online information: Inform visitors of your Internet presence by including any web addresses or social media handles for people to connect with you online.
Share results: Show visitors why they should choose you and include either numerical-based results or customer testimonials for some extra credibility.
Stand out From the Competition with Retractable Banner Stands From SpeedPro
Retractable banner stands help your displays make an impact by projecting vivid colors and resonating messages to your audience. At SpeedPro, our retractors are high-quality, lightweight, portable, and visually appealing. Every retractor includes the banner as well as the stand.
SpeedPro is dedicated to partnering with every client to design the perfect custom retractable banner to meet all needs. Our consultants approach each project with a commitment to assist clients within a short timeframe without sacrificing quality and efficiency. When you consult with our staff, we take the time to learn about your company and display needs to find you the perfect banner stand.
To get started creating your new banners, find a SpeedPro studio near you and see how we can assist you by creating vibrant retractable banners that help you stand out from the competition.
To get started on your new banners, find a SpeedPro studio near you to talk to the staff and see how they can assist you by creating vibrant retractable banners that help you stand out from the competition.