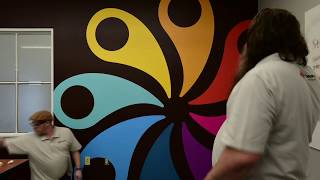 SpeedPro can help your office become a more vibrant and convenient place to work with signage and graphics that inform and inspire. Office signage can also help attract people to your business and engage them while they're there.
If you're interested in adding graphics and signage to your office, find out more about what office signage is and the types you can choose to receive various benefits.
---
Table of Contents
---
What Is Office Signage?
Office signage refers to the suite of graphics used to enhance an office space with information, artwork and branding.
Let's unpack each of these a bit:
Information: Office signs should provide the information visitors and employees need to easily navigate your building and be educated on relevant topics. For example, you might use an office sign to remind employees of important safety procedures in certain areas, or you may show which direction guests should go to find the main conference room.
Artwork: You can also use office graphics to enhance your space with artwork. Many employees believe that art in the workplace can lower stress levels. You could always purchase wall hangings to place around your office, but if you want to inspire your employees, create custom artwork that directly relates to your company's mission.
Branding: Another important way you can use office signage is to reinforce your brand. Your branding includes things like your logo, signature fonts and colors, company mission and core values. Giving prominent attention to your brand throughout your office building can reinforce brand awareness for visitors and help employees rally around a common identity and purpose.
Contact a Studio Near You for an Office Signage Design Consultation
What Types of Office Signs and Graphics Are There?
Office signs and graphics come in several types, so you can populate your whole office with various signs and graphics to enhance the space. We're going to focus on five popular types of signage for office buildings — wall murals, directional signs, window graphics, banners and door graphics.

1. Office Wall Murals
If you look around your office and see bland, blank walls or tired wall hangings, then you have an excellent opportunity to spruce up your office with wall murals. Wall murals can turn any blank wall into a visually engaging work of art that makes your office a more motivating and enjoyable place to work. If you have customers or clients come into your office, they will also be impressed by your office wall graphics.
A traditional method for creating wall murals is to commission an artist to paint a mural. There are some real disadvantages to this option, though. For one, it can be expensive. Perhaps more importantly, though, you don't have much control over how the artwork will come out. If you want your mural to effectively match your branding, then this can be concerning.
When you want to ensure your wall mural looks sharp and professional and is consistent with your branding, a decal wall mural is the way to go. If you've ever applied an adhesive vinyl decal to a wall, then you have an idea of how these murals work. However, unlike the small decals you may buy at the store, office wall vinyl graphics from SpeedPro can come in large sheets big enough to cover your entire wall.
Rather than waiting weeks for an artist to paint a mural, you can apply a vinyl mural in minutes. Once the mural adheres to your wall, it can last almost indefinitely with proper care. If you ever rebrand or decide to give your office a refresh, you can easily remove the old mural and replace it with a new one.
Here are a few ideas for what to include in your wall mural to enhance and even transform your office space:
Your mission and values: Your mission or vision statement and your core values are key to what makes your company unique. All too often, people — including employees — are unfamiliar with these aspects of a business. Giving bold attention to them through a wall mural can remedy that. When employees come to work and are greeted by your company's mission on the wall, this can help inspire them to work toward that common goal.
An inspiring photo: A great way to enhance your office with artwork and inspire your employees is to create a wall mural out of an eye-catching photo that's relevant to your business. The possibilities for inspiring photos are endless. For example, a dentist's office could show a smiling face of a satisfied patient. A travel agency could display murals of some of the most beautiful travel destinations. An office for a magazine could use some of their most popular covers as murals.
Abstract graphics: Not all artwork needs to be a photograph or a realistic graphic. Abstract graphics can also elevate your space while staying on-brand. For example, you can select colors and shapes that fit in with your logo and other aspects of your branding and use these basic design elements to create patterns and designs for your walls. This is a major step up from generic wallpaper or decal designs since it ties in seamlessly with your branding.
Your logo: An easy and effective option to highlight your branding is to feature your logo. Your logo is one of the most powerful visuals you can use to reinforce your brand since it functions as the symbol of your company. You may be used to having your logo on small displays throughout your office, but a wall dedicated to a large office logo sign can be an especially great way to brand your office space.
Your company's history: Another idea for an office mural is to pay homage to your company's history. For example, a car manufacturer could create a timeline of their most popular models, starting from their company's first offerings to the present day. A municipal office could create murals from old photos of their city and its residents. A makeup company could display some of their vintage ads throughout the decades. You could also use graphics with figures and statistics to show how much your company has grown since it started.
Beyond these idea starters, SpeedPro staff can give you more tips for designing your perfect wall mural.
2. Directional Signage for Offices
A type of signage that every office needs is directional signage. Sometimes called wayfinding signage, directional signage matters because it fulfills a practical need for both employees and clients who visit your office building. These signs help people navigate your building from the time they pull into the parking lot to the time they find the room they're looking for. This means pointing the way to certain rooms and areas, as well as labeling rooms, so you know when you've arrived at your destination.
You may be able to find generic wayfinding signs that point the way to common areas like restrooms or exits, but these generic signs won't reinforce your branding. Sticking with premade wayfinding signage also means you'll be stuck with labeling your offices and conference rooms as things like "1A" instead of giving them personalized names.
With personalized office directional signs, you can label rooms more specifically and get creative with how you name rooms, wings or common areas in your building. Try coming up with names that tie in with what your company does or the city it's located in. With personalized signage, you can also include an office building directory to help visitors and employees find the room they're looking for. In addition to identifying your building in a more personal way, you can also reinforce your branding through these signs by using fonts and colors consistent with your brand. You can even incorporate your logo.
Directional signage can come in a variety of forms and materials. Here are a few examples of signage types you can use for wayfinding in your office:
Vinyl floor decals: Floor decals can work well as directional signage since they make it clear which direction a person should walk in. It can be difficult, for instance, to signal to people that they should walk forward to get somewhere using an arrow positioned on the wall or hanging from the ceiling. On the floor, a forward-pointing arrow with some text makes it easy to navigate a building.
Hanging PVC signs: Hanging signs can be made out of a variety of indoor materials. A popular choice is PVC, a rigid substrate that works well for printing. Hanging signs strategically positioned throughout your building are an excellent way to point the direction to restrooms, fitness rooms, meeting rooms and more.
Acrylic office signs: Acrylic signs are typically either clear panels with text and graphics printed on them or are colored and cut to create individual letters. These signs have an elegant, modern edge, making them a great option for office signage in general, including directional signs. For example, you can use acrylic signs as office wall signs next to doors to label rooms.
Elevator wraps: If your office is multi-story and includes an elevator, you can use an elevator wrap to help people find their destination in your building. An elevator wrap is a large decal made to cover your elevator doors. For wayfinding, you can list what major features are on each level of your building so visitors know which floor they should head to.
Office door signs: We'll focus more on office door signs as this is one of the major types of office signage. However, it's worth mentioning that these door signs can help you label offices, conference rooms, common areas and any areas in your office that are accessible via a door. You can also label exits with door signs.
3. Office Window Graphics
Windows provide natural light in your office and can help your office appear bright and connected to the outside world. You can benefit even more from windows by enhancing them with office window lettering and graphics. These letters and graphics come in the form of decals that are easy to apply on any window.
Office window decals are made from vinyl, which comes in three main types — perforated, etched glass and static cling. Perforated window vinyl contains lots of tiny holes, which makes the graphic somewhat see-through. This type of window decal is for one-way viewing, which means your employees can see out the window, which will look similar to tinted glass, and the people outside your building will see a graphic display on the window that appears vivid and opaque. This can increase your office's curb appeal.
Etched glass window graphics are still decals, but they can give any glass window, door or interior divider wall the look of etched, or frosted, glass. Typically, this type of window vinyl is translucent and light in color. Your lettering, logo or panel is cut to fit your glass surface, providing more privacy in an elegant and branded way.
A third type of window decal is a static cling decal, which can be either single- or double-sided. This material clings to a glass surface rather than adhering to it, making it easier to reposition it when you want. When you opt for a double-sided graphic, you can reinforce your branding to both passersby outside your building and employees inside.
Window graphics have many benefits for businesses since they are so versatile. Here are a few examples of some basic information you can include in a window graphic:
Your logo
Your contact information
Your website and social media profiles
Your office hours
Engaging visuals that show what you do
Since window graphics are easy to change out, you can also use them to share temporary promotional messages. For example, your window cling can help you:
Advertise a sale
Promote an upcoming event
Celebrate a certain holiday or season
Share current statistics or facts about your company's success
4. Office Banners
Custom banners are one of the most popular and versatile display types and come with a whole host of potential benefits for businesses. You may associate banners primarily with events like birthday parties, but professional custom banners are an excellent advertising and branding tool for offices, as well.
Business banners range in size dramatically from small, tabletop displays to massive hanging banners. Most people are familiar with hanging banners that tend to be wide rectangles with grommets to assist with hanging, but this is not the only type of banner you can use for your business. You can also create taller, narrower banners that stand up with a banner stand. Additionally, some outdoor banners are mounted on the sides of light poles or on poles that extend out from your building's exterior.
Banners are typically made out of either a type of vinyl or fabric. The exact material should depend on where the banner is going to be installed — indoor or outdoor — and what you want it to look like. Some banners for companies are intended for short-term promotional messages, while others can be more permanent fixtures of your office.
More permanent banner installations can be used to reinforce your branding throughout your office's campus, both outside and inside. For example, you can add company banners that outline your core values to light poles around your parking lot. Inside, you can use a standing banner to welcome guests into the lobby. You can also use backlighting to give your indoor banners an extra touch of elegance and boldness.
Some examples of temporary messages you can display using a banner include:
Grand opening or reopening: When you open a new office or reopen your office building after a remodel, this is worth celebrating. A banner that announces your grand opening or reopening is the perfect way to get your employees excited and to create some intrigue among the public who see your banner. Before your opening, you can also use a banner to tell people your business is coming soon.
Now hiring: Another example of a temporary message you can share with a banner is that your company is hiring. Of course, you'll want to go through your official channels of posting job ads and recruiting talent, but a simple banner announcing that your business is hiring could be the thing to get someone's attention so they come inside to apply or look online for the job listing.
Award winner: If a specific employee in your company or your company as a whole wins an award in your industry, you have an accomplishment worth announcing. It also shows potential customers or clients that you're exceptional at what you do. Show off your accomplishment with a colorful banner outside your office.
Promotional pricing: If you're offering special pricing on your products or services for a limited time, a banner can help you advertise that promotion so anyone who is interested in your business gets the extra nudge they may need to officially make a purchase or partner with you. Banners are an excellent way to get the attention of these potential clients and customers.
Anniversaries: If your business celebrates an anniversary, consider commemorating this event with a banner. A customized banner ensures you're celebrating your company in a way that can give you some positive press. For example, your banner may read something like, "Celebrating 10 years of unmatched innovation," or, "30 years of [insert your company's mission here]."
5. Office Door Graphics
Even if you embrace an open feel in your office's floor plan and design, you likely have doors throughout your office. You may think of doors purely in functional terms, but just like walls, floors and other surfaces, doors can provide valuable real estate for signage in and outside of your office. For example, you can increase the visual appeal of your main front doors and make a great first impression on visitors first seeing your office.
Signs for office windows and glass doors can be made from window clings and decals. On metal doors, magnetic vinyl signage is a great option since you can reposition and reuse it as needed. Adhesive office door decals tend to work on just about any door surface, so they are always a convenient option to consider, as well. For a more formal sign, consider a material like acrylic that you can mount on or next to the door.
With custom signage, you can personalize your corporate door signs so they include your custom text, logo or other branded elements. Here are some examples of how you can use personalized office door signs at your office:
Welcome visitors: On the main doors leading into your office building from the outside, you can use an office door sticker to welcome visitors. This simple sign of hospitality can go a long way toward forming a positive relationship with people who come to your office, whether they are patients, customers, clients or professional partners.
Display office hours: Your front door is also the best place to display your office hours. This way, if someone comes up to the door when your office is closed, they can quickly see when they should come back. Since front doors are often glass, you may want to use an etched glass decal for this purpose.
Label rooms: Inside your office building, door signs can help you label offices, conference rooms, collaboration spaces, kitchens, cafeterias and any other rooms you have. Custom office door signs are absolutely essential for this purpose so people can conveniently navigate your office and know when they've arrived at the right spot.
Remind employees of safety regulations: If your office building includes storage areas, laboratories or other spaces that could present safety hazards to employees, door signs can remind employees of important safety measures before they step into that space. For example, if a part of your office is under construction, you may need a sign that tells employees the area is restricted or that they must wear a hard hat.
Talk to Your Local SpeedPro to Choose the Right Office Signage for Your Space
Benefits of Office Signage and Graphics
Office signs indoors and outdoors can provide several advantages to your company. You can easily implement graphics and signage throughout your office to reinforce your brand, give directions and help you individualize various areas. You can use them outside to draw attention to your company or inside to enhance the environment.
Check out some of the top benefits of office signage and graphics:
1. Draw Attention to Your Office
Getting people to notice your office is one of the best ways to make your company stand out from the competition. Exterior office signage and banners can catch the eyes of those passing by and help you build greater name recognition among the public. If a potential client is walking by, an external sign or graphic can raise your profile significantly in their mind. Additionally, attention-getting signage and graphics help new staff or clients find your office fast.
2. Reinforce Your Brand
Besides drawing attention to your office, office signs can also reinforce your brand's value. With graphics and signs around your office, you can showcase milestones, relevant promotions, product or service information and your company's commitments. These branded signs can help sell your company's value to clients and remind staff of the standards they should hold themselves to. On the exterior of your office, you can also include logos and other imagery that makes clients more aware of your company and its services.
3. Improve Your Office's Environment
If you've ever walked into an office with a drab interior and bare walls, you've probably yawned and started thinking about how you could get out of it as fast as possible. With office graphics, you can immediately make people feel at ease and excited by outfitting your walls and windows with attractive images and inspiring text. By improving your office's environment, you foster a workspace that employees want to come into, and clients don't want to leave.
4. Individualize Areas
If your office hosts multiple departments or features several rooms meant for different purposes, office graphics can be a great way to make various sections of your office have their own unique feel. For example, you might outfit your creative department with vibrant colors and graphics of some of their best projects. In contrast, your sales department might get signage featuring targets they're aiming to hit and inspirational messaging. Graphics allow you to gear every inch of your office to a unique audience.
5. Ensure Staff and Visitors Know Where to Go
Office graphics and signs excel at providing directions to visitors and staff in your office. From the moment a client arrives, they'll know exactly how to reach your offices and make it to the right room. Feeling lost can instantly make someone stressed out and frustrated. By using signage, you keep your clients and staff in a positive headspace, as they'll always know where to go and how to get there.
Work with Your Local SpeedPro to Create Office Graphics for Your Workplace
Trust SpeedPro for All Your Office Signage Needs
SpeedPro is your trusted partner for all your office signage needs. We can help your company create eye-catching graphics using the best materials and print methods available. When you talk to the staff at your local SpeedPro studio, you'll find that they take an individualized approach to understand your company and your office space so they can provide effective signage solutions tailor-made to your office.
Find a studio near you today to get started.