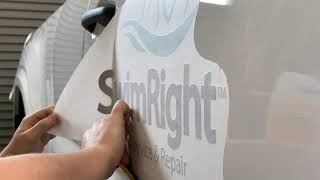 They transport your products. They hold your merchandise. They carry your employees and field personnel. Now, they can even represent your name and logo.
Garner the attention of drivers and people on the street with custom corporate vehicle graphics and wraps. Rule the road with a beautifully designed vehicle that includes your company name, image and information. These graphics have powerful potential for advertising your business in a whole new way.
What could your business do with more reach, more visibility, more recognition and more conversions? Find out with auto vinyl graphics and custom vehicle advertising from SpeedPro.
---
Table of Contents
---
Benefits of Using Custom Vehicle Graphics
A mobile marketing strategy centering on vehicle wraps and custom auto vinyl graphics makes your cars and trucks stand out from the crowd. However, the benefits of custom corporate vehicle graphics go beyond skin — or in this case, factory paint — deep. The right vehicle graphics can actually help further your marketing goals. Here are a few essential accomplishments they can achieve.
1. They Grab Attention
A colorful van or fleet of trucks driving down the highway commands attention. A food truck decked out bumper to bumper in bold graphics catches eyes. Even a fleet of partially wrapped company cars can accent and amplify your brand.
Custom vehicle wraps capture passive and active eyes alike. They instantaneously relay vital business information like your name, logo, website and social media handles. That information is more likely to be remembered when it seizes and surprises, converting drivers with passive eyes on the road to potential customers. Such conversions are the pulse behind successful marketing, and custom vehicle graphics and fleet wraps turn them from a goal into a reality.
2. They Reach a Wide Audience
The average driver logs 13,476 miles on the road each year. That's nearly 250 miles a week. Custom auto graphics and company wraps target this impressive audience pool at its source.
Among the forms of "out of home" advertising, vehicle wraps are the most effective. These messages can potentially reach thousands of eyes — and 70% of drivers and passersby actually read them. Every mile counts with mobile advertising — and fleet wraps sure do wrack up the miles:
Class-8 trucks, more commonly known as semi-trucks, see over 68,000 miles on the road annually.
No semi-truck needs for your business? No problem. Delivery trucks and corporate-sponsored vehicles spend over 13,000 miles driving each year — right on par with the typical American driver.
GeoPath — formally the Traffic Audit Bureau for Media Measurement (TAB) — pioneered a vehicle advertising impression methodology indicating that a single wrapped vehicle can garner 30,000 to 60,000 views daily, depending on route population density.
More views and more impressions mean more potential customers. It's a winning recipe fueled by fleet wraps' ability to drive by — and draw in — a substantial audience base.
3. They're Long-Lasting
Commercials last a few seconds. Online campaigns a few weeks. Basic billboard packages a few months. Custom corporate vehicle graphics? Those can last for years. Few other marketing channels tout the same lifespan at the same price point. Custom-wrapped cars and trucks consistently deliver three-to-six years of usage — and sometimes longer, depending on care and storage. As long as your vehicle contains its original coat of factory paint, wraps and graphics should stick and stay. Consider the following facts:
Most warranties protect and maintain custom vehicle wraps for up to five years.
Wraps and auto vinyl graphics are perfectly safe to remove and even swap out during their warranties.
A wrap's protective laminate layer may actually preserve your car's facade against fading and wear and tear or improve the appearance of an older vehicle model.
At SpeedPro, our superior printing technology and durable materials mean you'll get the highest quality vehicle wraps. We use solvent long-life inks and include water- and UV-resistant coatings to ensure your vinyl car wrap looks its best for as long as possible.
4. They're Cost-Effective
With vehicle advertising backed by some impressive marketing key performance indicators (KPIs), investing in custom vehicle graphics sees a return in no time:
Fleet wraps carry the lowest cost-per-impression not only for out-of-home advertisements but also for all major marketing channels, including print, television, radio, internet, social media and more.
For every dollar invested in custom vehicle graphics, businesses see a return-on-investment of $2.80. That's more than double most complete campaign expenses.
When added into cross-media TV campaigns with complementary graphics and messages, vehicle advertising increases campaign reach effectiveness by nearly 20 percent. When added to mobile and social media campaigns, it drives effectiveness up a staggering 316 percent.
While vehicles come with their own associated costs and investments, they're a necessity for many companies. If you already have a fleet or a few company cars, you've made an investment in your company's operations. Installing custom vehicle graphics can enhance your marketing strategy and give you high returns from an investment that's essential to your business.
5. They Contribute to Brand Aesthetics and Recall
Having a complete fleet with identical vehicle graphics will help you attain essential brand recognition through aligning your business aesthetics. Whatever design you choose for your custom vehicle wrap, make it a memorable tribute to your business. Here are some essential tips to keep in mind when designing your vehicle graphics for optimal brand recall:
Include short, simple text
Make the font and text easily readable
Keep the design creative yet simple
Use high-contrast colors
Ensure the design corresponds with your brand identity
Place critical information where it's most readable on the vehicle
Aligning your brand image and designing similar custom vehicle graphics will make it easier for potential customers to recognize your business. If your logo includes vibrant colors, having those same colors show up on all your graphics is an excellent way to streamline brand recognition. Even if someone on the street can't read the text, they'll likely notice those colors when they see them again.
Schedule a Custom Vehicle Graphics Consultation with a SpeedPro Near You
Full Versus Partial Vehicle Wraps Versus Graphics
Custom vehicle wraps come in three forms: auto vinyl graphics, partial wraps and full wraps.
Auto vinyl graphics: Vinyl graphics are individual decals printed and placed onto your vehicle. Car decals graphics vary in size and customizations to fit your exact vision, including scale, shape, color, depth, detailing and laminate finish. They're ideal for promotional and statement branding pieces, such as your business' name or logo, placed at or above driving-eye levels on the vehicle's side and rear doors.
Partial vehicle wraps: Partial wraps are large-format prints covering a vehicle's side, doors and rear. Partial wraps elevate a vehicle from ordinary to eye-catching, adorning the parts of a truck, van or car with the most surface room for images and text. A partial-wrap transformation is ideal to make four-door company cars and similar vehicles stand out on the road, reaping wider visibility and brand recall along the way.
Full vehicle wraps: Full vehicle wraps raise the creative branding potential even further. With full wraps, the entire vehicle becomes an advertising template. Hoods, roofs and car front-quarter panels receive custom graphics alongside the work on sides, doors and rears, transforming cars' complete facades.
Size and scale are the fundamental differences among these three mobile display graphics. However, vinyl decals, partial wraps and full wraps have more in common than different, particularly when it comes to their marketing applications. Each type:
Comes designed to capture attention and curate brand recall within consumers.
Aims to turn passive consumers into engaged, interactive ones.
Is durable and long-lasting. As noted earlier, a professionally wrapped service van or truck can last five years. Custom decals printed at experienced studios can last far beyond that.
Will be seen repeatedly, on a daily basis, throughout its lifetime. This marketing longevity combined with material durability means an advertising medium with a higher likelihood to see serious returns on investment, with that investment compounding over the years.
Is safe to remove with proper equipment and handling. You can remove vehicle graphics without harming the paint of the vehicle underneath. It's best to have a professional remove your wrap as it can be a difficult process.
Determining which custom vehicle wrap type is right for you is an essential part of a well-strategized, full-scope marketing plan. No two businesses are the same, and neither are the advertising goals and methods necessary to achieve them. SpeedPro's network of visual communications studios understands this diversity. That's why we offer both printing and design consultations, ensuring you get more than just a logo slapped on the side of your car. You'll get a visual message worthy of your brand — one that you're proud to display both today and tomorrow.
How Much Do Custom Vehicle Graphics Cost?
Vehicle wrap costs will vary. Depending on the size, scale and detailing in your order, as well as the number of vehicles slotted for wrapping, you can spend anywhere from a couple hundred to a couple thousand dollars to see your mobile marketing initiative to fruition. These costs are an investment. They should be viewed like other marketing campaigns and operations, with costs balanced out by the subsequent boosts in sales, customers, product turnover and many other success benchmarks. Find out the effect of your wraps by:
Measuring investment effectiveness: Include a custom phone number or webpage URL on your custom vehicle graphics. Use that number or page only on your vehicles, allowing it to serve as a control group of sorts and targeting your mobile audience. Then, once your branded vehicles hit the road, track the jump in sales calls or online order forms submitted. This strategy offers a direct way to measure the effectiveness of your new vinyl graphics and vehicle wraps, utilizing real numbers and real data to calculate actual return on investment.
Using questionnaires: You can implement a simple, "How did you hear about us?" questionnaire for both online and over the phone orders, asking customers how and even when they found out about your business. Include vehicle advertisement as an option, then track how many times it's cited.
Consult with your local SpeedPro representative to receive a custom order quote. This step is the most accurate way to learn direct pricing and the cost structure behind the custom vehicle graphics you envision for your corporate cars and trucks.
How to Care for and Install Custom Vehicle Graphics
You make the most of your vehicle wraps when you properly care for, store and maintain the vehicles they're applied on. That plan also means caring for the images themselves using the right tools and overall timeline. Installing your custom vehicle wraps is a three-phase process:
Designing: The design phase is the most flexible. You can create and submit your own designs to our print studios, or you may have an opportunity to work with a graphic designer at certain SpeedPro locations that offer that service.Experienced professionals can fabricate wraps and decals appropriate for your fleet and consult with you on your own designs. While the availability of this service depends on the SpeedPro studio, all studio teams will be more than happy to assist you with whatever design questions you have.
Printing and laminating: Printing and laminating base vinyl sheets takes around three to four days. Print timelines are based on the size, colors, amount of detail and type of ink designated in the design.
Installing: The quickest vehicle wrap process will take a full day's labor for a single vehicle. Vans and trucks may take up to two days, while wrapping an entire business fleet averages three to six business days, maybe more. Professional installation is recommended, with a team of experts certified in vehicle wrapping following exact steps and utilizing safe specialty tools.
Contact SpeedPro for Custom Vehicle Graphic Design and Installation
Installing Custom Vehicle Wraps and Decals
SpeedPro's professional fleet wrap installation adheres to the following steps:
Panel printing: Graphics and wraps are printed on vinyl substrate panels. Depending on the size of the wrap, as few as one or as many as half a dozen panels may be required. Vinyl panels are lined with an adhesive backing that provides their durable, safe stick. Window graphics are printed on perforated window film to maintain visibility.
Vinyl treatment: Vinyl panels are treated with a laminate layer to protect against fading, dirt, debris, UV rays and oil. There are a handful of laminate types to select from, most of which center on the sheen desired for your graphics.
Vehicle preparation: Thoroughly wash all vehicles prior to installation, even if they're just receiving spot vinyl decals. Ensure that any wax, oil or grease has been removed from the vehicle's surface, as even trace amounts can impede proper vinyl adhesion.
Wrap or decal installation: Certified installers attach panels to the car or truck one at a time. Vinyl placement follows a set design proof, pre-marked and arranged for error-free application. Particular attention is paid to windows, roofs, door seams and curves on the vehicle, as wraps on these areas tend to trap air and bubble if installed improperly.
Final inspection and release: All wrapped vehicles are checked for air pockets, wrinkles, seam misalignment and secure adhesion. Once approved, your freshly wrapped custom graphics are ready to hit the road.
Selecting the Right Material
During the design phase, you'll select two key components to create your custom print pieces, the base substrate and the graphic laminate:
Base substrate: Custom vehicle graphics and wraps are printed on special, car-friendly vinyl graphic sheeting. For images and text on windows, that vinyl is swapped for perforated window film, a micro-holed material that allows you to still see outside the car.
Lamination: Laminates maintain the color and integrity of your graphics while lending them a finishing aesthetic touch. Common custom vehicle graphics come laminated in gloss, matte and satin finishes.
Proper Cleaning
Vehicles should not be washed or come into contact with water for a week after vinyl or wrap installation. Cleanings should be done by hand, not by an automated car wash. Use a soft sponge or microfiber towel with room-temperature water and mild soap. Avoid chemical solvents and corrosives as well as high-pressure washes, which may cause decals and wraps to peel.
Tools and Tips
Correctly applying vinyl to car facades takes specialty cutting tools like scissors and scalpels, as well as squeegees for uniform application pressure. Decals and partial and full vehicle wraps require these tools, but unlike decals, wraps are not a "peel and place" installation. They take at least four to five business days for a team of trained wrapping experts.
SpeedPro nearly always advises professionally wrapping your corporate vehicles. Doing so ensures you receive smooth, high-quality, error-free and warranty-protected decals and wraps displaying your professionalism and credibility — and graphics that get remembered for the right reasons.
Other vehicle graphic tips and tricks to bear in mind include the following:
Remember that applying decals by hand is not generally recommended: Rubber squeegees and similar tools distribute pressure more evenly than application by hand. You reduce the risk of wrinkles and air pockets forming beneath your vinyl if you avoid by-hand application.
Be mindful of rolling down windows or using rear window wipers if the windows are adorned with perforated window film graphics: The occasional wind in your hair is fine, but the friction caused by constant window rolling and rear wipers risks fading, discoloration and even tears in perforated window film, which is more delicate than vinyl.
Use ice scrapers with care: Similar to rolling down windows, using an ice scraper directly on perforated film can cause graphics to tear.
Stay out of direct sunlight: Store wrapped vehicles in garages or under covered lots when they're not in use.
For more vehicle graphics care and maintenance tips, see our Wraps section under our FAQs.
Nearby Vehicle Wraps and Corporate Vinyl Graphics
SpeedPro's nationwide network of visual communication studios gives you the green light to design, print and install custom auto vinyl graphics built for your brand. You'll get an individual representative working with you every step of the way, plus our award-winning, wide-format printing services right there in your neighborhood, tailoring wraps to your business objectives.
Find your local SpeedPro studio to get started on your vehicles' branding transformation today.