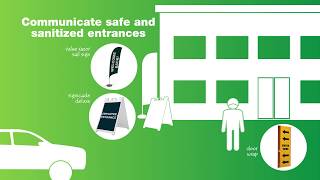 The coronavirus has upended many people's lives and presented a number of challenges to businesses. If you're one of the many business owners impacted by COVID-19, you're likely looking for any way to make your business safer during this public health crisis. You're also probably hoping to find new ways to market your company and bring in customers at a time when many people are staying inside.
One of the best ways you can improve the safety of your business and also attract customers is with customized COVID signs. As retail stores, restaurants and other businesses begin to re-open across the country, it's crucial that you have signage to advertise your re-opening or changing hours, while also informing people about safety requirements.
In this guide, we'll discuss what coronavirus signs for businesses are, the benefits of using them and some of the best options to consider.
---
Table of Contents
---
What Is Coronavirus Signage?
Coronavirus signage for businesses is meant to help companies adjust their marketing efforts to the novel needs that COVID-19 has brought to their business. This COVID signage can range from exterior signs advertising curbside pickup options to graphics that personalize hand sanitizing stations.
Benefits of Coronavirus Signage
Before you invest in coronavirus signage, you probably want to know the advantages they can offer your business and if they'll be worth it. Check out the following benefits of investing in coronavirus graphics and signs:
Keep customers safe: Ensuring that customers and clients are safe when they enter your building is likely at the top of your priority list. Signage is one of the best ways you can build a safe environment for visitors. For example, informing customers about proper social distancing practices or showing them how they should be wearing their masks can create a more sanitary environment for all.
Address customers' fears: Many people are, justifiably, going to be worried about going back out, even when their state reduces the restrictions on social distancing. As a business owner, you want your business to be a safe place for customers or clients to visit. If customers don't know about the safety precautions you've taken, they might go somewhere else or stay at home.
Create a sanitary work environment: Without your employees, your business can't operate effectively. Even though you're opening back up, you want to ensure your employees are as safe as possible when they come into work. For instance, placing signage throughout your business that informs customers to wear masks and keep a distance from workers can protect employees. Additionally, acrylic signage across check out counters or at desks can reduce the chances that there's any exchange of the virus.
Bring in business: People have come to expect that their favorite restaurants and shops are going to be closed or have limited hours. Coronavirus signs let people know that your business is back up and running, which can drum up demand for your offerings. Signage can also highlight any new hours to keep your customers as informed as possible.
Contact Your Local SpeedPro to Learn More About Our Coronavirus Signage Options
Top Coronavirus Signage
As you look to add coronavirus signs and graphics to your business, you should have an idea of what's available to you. There are several types of signage you can implement at your business to improve safety and draw in customers. This signage comes in a variety of types, materials and prices, so you can implement them in a way that meets your overall brand image and budgetary goals.
Check out some of the top signage options below:
If your business requires customers to wear a mask while inside, a sign is a great way to communicate that information before they enter the building. These face mask signs or graphics will often come with text that instructs customers to put on a mask before they come inside the building. In addition to the text, they can also come with imagery of someone wearing a mask to catch the eye of customers and showcase the proper mask-wearing technique.
You can also have face mask signage that covers the basics of wearing a mask. The graphics can highlight how customers should be wearing their mask, while also highlighting the common ways that people don't wear them correctly, such as keeping the nose uncovered. This sort of information can help your business become a safer location and act as a public service announcement, helping people become more responsible citizens when they're outside.
Face mask signage often comes in the form of window graphics, a-frame sidewalk signs and other pieces of outdoor signage. Ensure that your customers are well-informed and keep your staff safe by ensuring anyone visiting your location is wearing the appropriate face masks.
Social distancing signage comes in a variety of forms, whether it be floor graphics or exterior signage. This signage generally contains imagery and text that reinforces how far people in your office, store or other location should be staying from each other at all times. The Center for Disease Control and Prevention (CDC) recommends that people stay six feet away from each, don't gather in groups and stay away from mass gatherings to follow social distancing guidelines.
Social distancing signs can inform people before they come inside that they need to be staying six feet apart from others. In addition to exterior signage and window graphics to tell people to social distance, environmental graphics can be placed around the interior of your building to help visitors visualize the distance shoppers should be keeping from one another. Floor graphics are great at this, as they can be placed throughout the building to show how far six feet is.
Many businesses and organizations have begun implementing temperature check protocols. Businesses with these protocols in place will often require anyone, including employees, clients and customers, to take their temperature before they enter the building. This method helps keep anyone who has a fever away from others, helping to slow the spread of the virus.
Signage for these temperature checks is designed to inform anyone who has access to your building that they will need to undergo a temperature check before they enter. Although temperature checking can often be done with a scanner that's non-invasive, some customers may be put off by the prospect. Signage helps customers or clients prepare for the temperature check. The signage can also direct people to an organization's temperature check station.
There are several types of signs that can facilitate temperature check messages. A-frame signs can be lined across walkways into your building, so customers are aware even before they enter the building. Additionally, digital signage can be a good option, as you can adjust their messaging whenever your restrictions change.
If you run a restaurant or another type of company that wants to reduce contact between staff and the public, you'll likely have implemented some sort of curbside pickup service that allows customers to pull up near your business and pick up whatever they ordered with minimal contact between themselves and your staff. This method also keeps people from coming into your building, where it's more likely for the virus to spread due to people shopping close together.
Curbside pickup signs let potential customers know that you're open for business and that you're taking precautions to protect them. Take-out signs can help generate orders and inform potential customers that your business is still open. Curbside pickup and carry out signs are crucial for helping people know that your business is taking the virus seriously and that you're still providing the top-quality products, meals and services they're used to receiving.
These signs can often be placed as decals on your windows so that, if anyone visits your location to see if you're open, they can be informed about the ways they can engage with your business. Additionally, curbside pick up messages can be used on large format signage or on banners as a part of a broader marketing campaign to catch the eyes of motorists or those out on a walk, increasing your public presence.
Businesses that offer delivery should be making sure people know about it. Even as restrictions lift, some people aren't going to feel comfortable going out for some time. As such, it's important that businesses can get whatever they're offering directly to customers without making them come into the store or restaurant. Delivery signs will help your business appeal to those who are trying to reduce social contact as much as possible.
Outdoor signs are ideal for advertising your delivery signage. One popular form of outdoor signage is large-format corporate signs, which can be mounted off of the side of your business or on their own on an H-frame base. The large graphics and text can capture the eyes of anyone passing by and inform them of your business's delivery options. You can even use signage to highlight the ways you're making delivery even more sanitary, such as offering no-contact delivery.
If your store has cash registers or other stations where staff members are expected to interact with customers or clients, you'll need to use acrylic shields to keep your workforce and the public safe. Acrylic shields are essentially sneeze guards and safety screens that put up a protective, clear screen between staff and customers.
The acrylic shields can come with text on them, or they can be completely clear. They can be placed directly onto countertops at cash registers and in other key locations, such as pharmacy windows, throughout your business. If you operate an office building, you can put up attractive frosted glass around desks to give workers extra protection when the office opens back up.
Coronavirus has caused many businesses to shut down temporarily. For the businesses that did shut down, they'll likely benefit from utilizing "now open" signs that will let their customer base know they're back up and running. To get people to notice that your company is now open, you can employ larger exterior signs, especially if they come in a backlit form. "Now open" banners also look great hanging over your entrance or off the side of your building.
Even if your company has stayed open since the outbreak, you may have had to adjust your hours to account for a decrease in demand or other coronavirus effects. A change in hours needs to be communicated to your customers to keep them well-informed and satisfied, while also ensuring they don't get the impression you've shut all the way down. Window decals that can be applied and removed easily are often ideal for communicating changes in hours.
Hand sanitizer stations are popping up everywhere as companies and organizations recognize the importance of clean hands, especially if they operate a business where customers can pick up and put back down products, such as in a retail or grocery store. These stations give users the chance to keep their hands clean and possibly kill the virus if their hands came in contact with it.
For these hand sanitizer stations to be effective, they need to be used. To get people to notice the stations and encourage shoppers or employees to use them, it's often a great investment to add signage around the station that helps people see it. This signage can often be cut in a way that it surrounds the hand sanitizer station, with graphics and text letting people know that they can and should be using the hand sanitizer regularly while inside.
Besides the station graphics' practical benefits of stopping the virus from spreading via customers' hands by directing visitors to the stations, the station's graphics can be used to highlight other useful information, such as proper hand-washing techniques, like how long people should be scrubbing their hands with soap or sanitizer. Additionally, as a form of dimensional sign projects, the graphics surrounding these stations can highlight your company's brand and add to the visual appeal of your building.
Choose SpeedPro for Your Coronavirus Signage Needs
At times like these, you shouldn't have to worry about producing high-quality signage. A trusted signage and graphics studio can help you produce signage in a stress-free process that leaves you with unforgettable marketing materials. As the only nationwide network of studios specializing in large-format printing, SpeedPro is ready to help you implement attractive and informative signage at your business.
Find your local studio today to receive a free quote and discuss your coronavirus signage options.